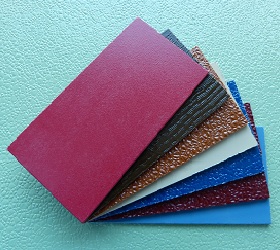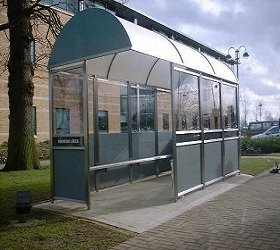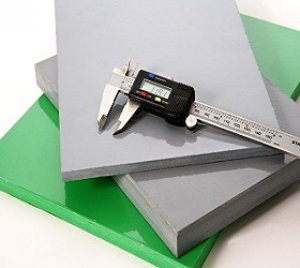 GRP FYBATEX panels are manufactured by combining hundreds of thousands of glass strands with pigmented thermoset UV resins, to produce an immensely strong and durable GRP sheet whilst maintaining an attractive appearance, and can be produced with the following features:
U.V. Resistant
Impact Resistant
Any Thickness
Graffiti Proof / Resistant
High Strength to Weight Ratio
All GRP Solid Colour Panels (Fybatex) products can be manufactured with a variety or combination of surface finishes . The inclusion of our unique surface membrane can significantly enhance the quality, appearance and lifespan of panels, by providing high level of U.V. and graffiti resistance.
U.V. Smooth (Mid-Gloss Finish)
Incorporating a heat bonded polyester film to a resin rich and fibre free (mid gloss) surface.
Deep Crinkle
Excellent scuff, scratch and abrasion resistance. Embossed surface detracts from graffiti by marker pens and "carving" from sharp instruments.
U.V. Leatherette
A lightly embossed surface which incorporates a clear heat bonded polyester film, and provides excellent U.V. and graffiti resistance.
Resotex (Matt Finish)
A high quality through colour pigmented sheet with a two pack polyester surface coating providing a lightly textured matt finish that has high UV resistance, very similar in appearance to high pressure laminates.  We offer a minimum 10 yr guarantee against significant colour degradation.  Used by many customers, often as an alternative to TRESPA.
Various Finishes (inc Woodgrain)
Other surface finishes such as high gloss woodgrain and matt finish can be achieved to specific customer requirements.
GRP is an incredibly versatile product used in many applications where conventional materials cannot meet required specifications and standards such as fire ratings, impact resistance and weight considerations.
Applications Include:
Balcony Panels
Bus Shelters
Soffit Panels
Door Facings
Schools
Kick Plates
Infill Panels
Fire Doors
Curtain Walling
Security Screens
Kennels & Catteries
Skating Rinks
Ballast retention plate for the Railway Sector
Fabrication
GRP Fybatex panels are supplied in either sheet form or manufactured to size. There are however occasions where panels may have to be trimmed or drilled on site. Despite the high strength and impact resistance, GRP Fybatex panels are easily fabricated using conventional tools without risk of breaking or fragmenting.