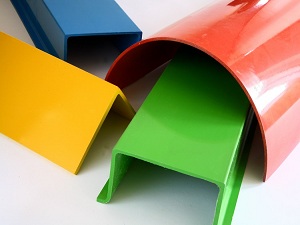 The diversity applications for GRP flat plate is almost infinate. Depending on the requirements, whether it will be thickness, strength, fire resistance, chemical resistance etc. Smyth Composites have the technology and experience to manufacture composite flat plate to individual customer requirements. Some of the Specialist products produced are; High Strength or Chemical Resistant Plate; 2 Dimentional Shapes and Angles; GRP Cable Trays; GRP Trenches; Packer Panels & Honeycomb Core Plate.
Standard Plate
Isophthalic flat sheet GRP utilised for a number of applications such as cable tray covers, deflection boards, manhole covers etc. Both faces of standard plate are non-fibrous and can be manufactured with a heat bonded clear polyester surface coating which prevents surface degradation and fibre print through. Available in any thickness from 1.5mm upward.
High Strength Plate
Where additional reinforcements and greater strength are required, woven mats of varying weights and strand thickness can be incorporated to combine with chopped strand mat to produce a higher strength composite panel.
Chemical Resistant Plate
Utilising suitable resin systems such as Vinyl, Ester, Epoxy, Atlac etc. composite plate can be manufactured to resist highly toxic and acidic chemicals. Suitable for use in chemical plant, laboratories, toxic containment vessels and as weir plates, scum boards etc for Water Board applications.
2D Shapes and Angles
can be manufactured to suit individual requirements. Applications include roof trims, cable trays, access ducting & troughs. Product can be literally any colour, thickness and resin type.Small scale production runs catered for.
Radio frequency transparent plate
Manufactured using unique specialised resin and reinforcement systems allowing the maximum passage of micro and radio waves. Suitable as an aesthetic screen to conceal antennae, microwave dishes and aerials. Available in sheet form or shaped product.
GRP Trenches and Cable Trays
We now manufacture a range of GRP trenches and cable trays that are available to customer's specifications.  Already used in power plants, these lightweight units are an ideal substitute to traditional concrete units.  Available with or without covers and side stiffening bars.  Also suitable for use in chemical plants and Water Board applications.
View Case Studies:
Coming Soon
Coming Soon
Coming Soon
Coming Soon