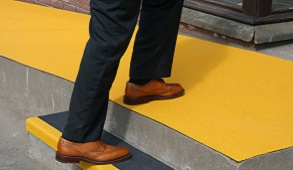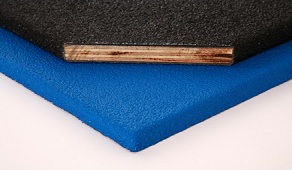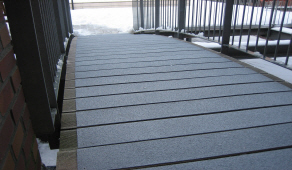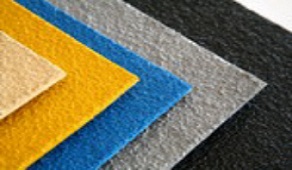 GRP (Glass Reinforced Plastic (Fiberglass)), Anti-Slip flooring has been used in industrial and commercial environments for some considerable time. It provides an excellent safeguard against the potential for slips leading to accidents, injury and often compensation claims.  It can be used anywhere there is a potential slip hazard.
 Benefits:

  Applications:

Non Corrosive

Non Conductive
Manufactured to Size

Easy to Install

Very Hard Wearing
Choice of Thickness / Colour

Railway Platforms
Disabled Ramps
Marinas & Jettys
Piers & Pontoons
Inspection Platforms
Forklift Truck Paths

Swimming Pools
Grating Covers
Truck Trailer Floors
Tail-lifts
Decking Strips
Railway Overbridge Flooring
Colour Range:
Black, Grey (RAL 7001) and Yellow (08 E 51) as standard, other colours available from the following ranges:
A Colour Matching Service is also available.



Durbar:

Anti–slip flooring can also be manufactured with a distinctive "Durbar" chequer plate pattern in a wide choice of colours. Max size 2400mm x 1200mm. Gritted or Smooth.
Encapsulated Ply: An increasingly popular product widely used in the construction of access ramps. Available in various thicknesses, in 8 x 4 sheets or cut to size.

Fire Rating:

Available as General Purpose or to either Class II or Class 1/0. Also supplied as Phenolic Gritted Plate which is authorised for use by London Underground.



Installation

Guide:

Each installation will have its own criteria but there are a number of operations and procedures that are applicable in all instances.  Therefore we have made available for download as a PDF our "Guide to Installing GRP Anti Slip Flooring"
Commercial Considerations
Recent findings by The National Accident Help Line illustrate that claims by people who believe they are entitled to compensation following a slip or fall can be very high. Depending on the severity of the slip and on-going impact on the claiment's life pay-outs could range as follows.
Serious foot injuries £14,500 – £22,650
Severe knee injuries £15,500 – £56,000
Hip or pelvic injury £2,175 – £76,350
Wrist injury with on-going problems £7,375 – £14,250
And it could be a lot worse……
Costly supermarket slips
A female shopper, left compelled to use a wheelchair after slipping on a mushroom in a supermarket, was awarded £550,000 in compensation in 2003.

A supermarket worker was awarded £200,000

for injuries she suffered when she slipped in cream spilled by a customer.  Cleaners had moped the original spillage but the worker fell heavily at the same spot because the floor had not been cleaned effectively and was left greasy.
 -> Anti-Slip Flooring Gallery <-